Telehealth
Our GPs are providing telehealth consultations during the pandemic to support patients who are unwell or concerned about Coronavirus.
Our patients have found this service extremely valuable. GPs at Night Doctor are very experienced in assessing patients over the phone or video, as they do this routinely by triaging patients prior to home visits.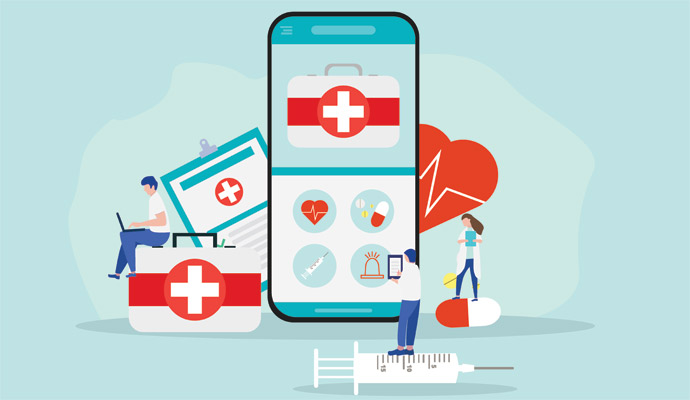 Our telehealth service
Detailed history and remote examination
Your doctor will take a detailed history of your medical problem. They will also undertake an examination over video, with your support.
Diagnosis and referral advice
In most cases, there is not a need to be referred for further care (to ED or the GP), and our doctor is able to provide a diagnosis, treatment advice and reassurance.
In some circumstances where follow-up is required, the doctor will advise you of what further management is needed and the urgency with which this must take place.
If a trip to the Emergency Department is advised, your doctor will be able to go through the risks and benefits of attending (e.g. risk of worsening condition vs. risk of being exposed to Coronavirus)
Scripts
If a prescription is required, your doctor will forward the script to a pharmacy of your choosing.
Medical certificates
If you require a medical certificate, one can be emailed to you at the end of the consultation.
Reassurance
Patients are understandably concerned about Coronavirus and the potential implications for themselves and their family and friends. By undergoing a comprehensive telehealth assessment, our doctors will provide you with the facts, and the reassurance you need.
Coronavirus information
The advice around Coronavirus is constantly changing and there is a lot of misinformation in the internet. Our doctors are up to speed on the latest information and can help you separate fact from fiction.
Your GP will advise whether you require a test for Coronavirus and where to attend to have the test.
Isolation advice
Isolation is key to reducing the spread of the virus and keeping your family and friends safe. Your doctor will advise if isolation is required, what you must do to isolate and how long you should isolate for.
Opening hours
| | |
| --- | --- |
| Monday | 12am–8am, 6pm–12am |
| Tuesday | 12am–8am, 6pm–12am |
| Wednesday | 12am–8am, 6pm–12am |
| Thursday | 12am–8am, 6pm–12am |
| Friday | 12am–8am, 6pm–12am |
| Saturday | 12am–8am, 12pm–12am |
| Sunday | 24 hours |
| Public Holiday | 24 hours |
Telehealth cost and booking
Please see our fees to learn what fee applies for your telehealth consultation.
Call us now to make a booking. We won't keep you on hold.
Preparing for your telehealth consultation
Work out your heart rate
There are several ways in which you can work out your heart rate:
Use a blood pressure machine if you have one
Use a wearable device such as a smart watch or sports watch
Feel your pulse at your wrist. Count how many beats occur over 30 seconds and multiply this number by 2
If you are not able to provide our GP with you heart rate, that's absolutely fine!
Record your blood pressure
If you have a blood pressure machine, please record your blood pressure prior to your consultation. Do not worry though if you do not have a machine.
Take a picture of your throat
If you have a sore throat and are able to provide a clear picture of the back of your throat, this will help your doctor with their diagnosis. To take a picture of your throat:
Use the camera on your mobile phone
Turn on the flash
Stand in front of a mirror
Turn the phone around so that the screen is facing the mirror - you will be able to see your throat on the screen in the relection in the mirror
Open you mouth as wide as you can
If you cannot clearly see the very back of your throat (the part beyond the dangly bit in the middle) then poke your tongue out as far as you can
Take the picture
Try to take an in focus picture
The doctor will ask you to send the picture to them after they have started the Telehealth consultation.
If you are not able to take a picture, do not worry.
Take a picture of area of concern
Please take a picture of any area of concern (e.g. rash). The doctor may request you to send them the image during the consultation to support the diagnosis. Ensure that there is adequate light and the camera is in focus.
Record your blood oxygen levels
If you have a pulse oximeter or a smartwatch that measures your blood oxygen levels, please record these so that you can report them to the doctor.
Call to book: 1300 644 483